Throughout the ages Women have been worshiped as Goddesses.
In Roman and Egyptian Antiquity, slaves threw themselves at their Goddesses' feet
and donated flowers and gifts while chanting prayers of servitude. Enter 2009.
Today's Women are more powerful than ever before. My World is a perfect example of that.
I'm the Embodiment of a true Goddess- the total Trophy Package that every man fantasizes about !
I'm the sole Ruler of My Own Kingdom, with a devoted, cult-like following:


The Temple Of GODIVA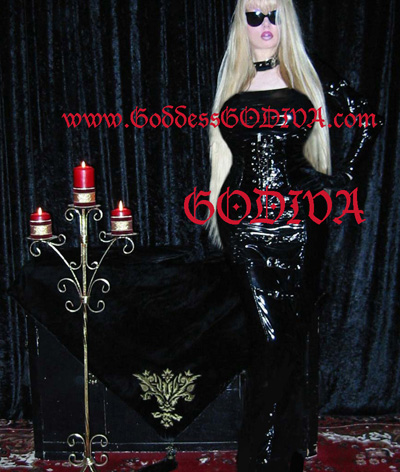 Stats:


Name: Godiva

Zodiac Sign: Aries

Height: 5' 9 1/2"

Hair: Blonde

Eyes: Blue

Heritage: German

College: Fashion Design, Theatrical Costume

Favorite Color: Black

Favorite Movies: Qills, Eyes Wide Shut

Favorite Music: Rock, Goth, Electronica

Favorite Bands: Nine Inch Nails, Rammstein

Favorite Food: Italian, Indonesian, Thai

Quote: Saving just one dog won't change the world, but it will change the world of that one dog !


Career Profile:


Costume Designer

Musician

Belly Dance & Fire Performance Artist

Fetish Model

Dominatrix


Websites: