Site Contents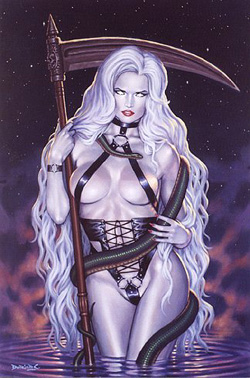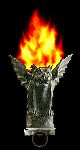 Only worthy submissives need apply !
If you are sincere, you will be happy to find out
that I am 100% the Real Deal.
I am organized, reliable and possess the right attitude.
Don't let My centerfold look fool you-
underneath lies an extremely intelligent and hypnotic mind,
laced with a great dose of creativity.
To top it off I truly LOVE the dominant lifestyle & live it to its fullest !
Few Dominas can say that and actually mean it !
Because of this I have developed a great rapport with all of My devoted followers over the years.

For those unfortunate souls
who have had disappointing experiences
with other "Mistresses" in the past:
your search for the perfect Domina is over !
Many of My devoted followers have professed
how grateful they are that I have
restored their faith in the
Superior Being:


Woman

I am a true Goddess in every sense of the word
and I expect to be treated as such !
I am drug & alcohol free and My play space is clean and safe.


Always the perfectionist, it goes without saying that I own
an extensive & alluring fetish wardrobe (latex, leather, PVC
and numerous other materials), that includes a dazzling collection
of shoes and boots in every style imaginable.
I also offer a variety of outfits for My submissives:
latex wear, bondage suits, strait jackets, hoods, masks, body bags,
body harnesses, collars, wrist & leg cuffs, etc.-
as well as wigs, lingerie & ladies' clothing in large sizes for cross dressing.

Indulge yourself and experience the thrill of
My sensual and truly captivating dominance
that holds the power to bring ANY man
to his knees...


My Expertise lies in:
* All Types of Creative Role-Play/Psychodrama
(Vampire, Goddess, Nurse, Teacher, Police Officer, Military, etc. Theme Fantasies)
* Shoe & Boot Worship
* Sadism // Masochism
* Creative Bondage & Restraints
* Flogging, Whipping, Caning, etc.
* Riding Crops, Bullwhips, Cat-O-Nine Tails, Paddles, Slappers, etc.
* Clips & Clamps
* Electrical Play
* Medical Role-Play
* Teasing & Denial
* Humiliation
* Smothering // Breath Control
* Maid & Pet Training
* Cross-Dressing & Complete Make-Overs
* Mummification
* Trampling
* Objectification (Human Footstool, Doormat, Candle Holder, etc.)
* Sensory Deprivation // Overload
* Candle Wax Play (Warm or Hot)
* Corporal Discipline (from Moderate to Severe)




Things I do NOT engage in:
* No Enemas
* No Invasive Medical Procedures
* No Showers of any kind
* No Wrestling
* Nothing involving Animals and/or Children (the real kind !)
* No Illegal and Unsafe Activities
* No Drugs & Alcohol
(please do NOT show up "high" or drunk !)
* And last but not least: I'm a Dominatrix ONLY- so do not ask Me for Sex !
If you want Sex, visit a Prostitute !





I can be equally caring, sensual or sadistic,
depending on My mood and each individual's needs.
Beginners are welcome, and I will fully respect any boundaries you may have...



A Common Misconception:




One question I hear all the time from "newbies" or individuals who are not that familiar with
the BDSM scene and who assume that ALL BDSM play always involve PAIN and BEATINGS is:
"Mistress, You are not going to beat the shit out of me, are You ?"
Or: "I am not really into pain. Is that a problem ?"



Let Me set the record straight on this:




Although there are some Dominas out there who use the BDSM Scene as a vehicle
to indulge in their hatred for the male species and who don't care about what the submissive wants,
I assure you that this is NOT the case with Me !
I do not hate or dislike men in the least - I JUST LOVE TO DOMINATE THEM !!!
And the fact that I am a Dominatrix does not automatically mean that I BEAT or HURT everyone !
In fact, many times BD/SM play does not include ANY pain at all !
If it does, it is ONLY because the submissive clearly stated before play time
that he either expects some type of pain, or is interested in trying it.
So if you ARE into pain and/or being marked- by all means, I will indulge you
(and Myself !), but if you AREN'T: there won't be any !!!
Domination is not limited to (or even has to include) the PHYSICAL realm.
It can focus entirely on the MIND, or an elaborate fantasy role-play scenario.
One can be dominated in a million ways -
the possibilities are endless and are only limited by one's imagination.
Absolutely NOTHING will happen to you that YOU do not want to happen !
Before deciding whether or not I wish to play with someone I always make an effort to
deeply explore his mind to find out what makes him tick.
And only when I feel that I've received a clear enough picture of his inner workings,
and feel that W/we may be compatible, do I proceed...





Surrender to the power of My spell
and you will find yourself frozen into submission
by My extraordinary beauty and presence...




Mistress GODIVA ©